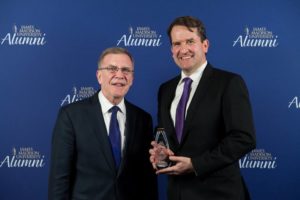 James was awarded the 2017 James Madison University Distinguished Alumni Award for the College of Visual and Performing Arts.
---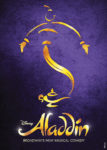 James is currently standing by for the roles of Jafar and the Sultan in Disney's latest Broadway smash, Aladdin. Directed and choreographed by Tony Award winner Casey Nicholaw, the show is running at the New Amsterdam Theatre on 42nd Street. Visit the show's Official Website for ticket info.
---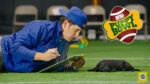 Check out Jim coaching and running the puppy tryouts for Puppy Bowl XII. Visit the On Camera page to see photos and watch the commercials.
---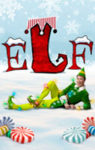 November 26, 2014 – January 4, 2015
James will star in Paper Mill Playhouse production of the hilarious holiday musical, Elf. Based on the 2003 film starring Will Ferrell, Elf is the hilarious and joyous tale of Buddy, an orphan who is mistakenly transported to the North Pole and raised by Santa's elves. Now, as a grownup, he embarks on a journey to discover his true identity. It's a holiday treat for your whole family. Click here to see photos from the production and video from rehearsals.
---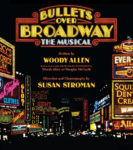 Spring – Summer 2014
James back on Broadway in the new musical Bullets Over Broadway. Directed and choreographed by Susan Stroman, the show was an adaptation of Woody Allen and Douglas McGrath's 1994 comedy. To see photos from the production, visit the Photos page.

---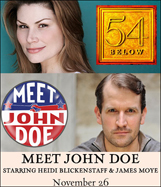 Tuesday, November 26, 2013 @ 9:00 pm
ONE NIGHT ONLY! James can be seen at 54 Below with composing team Andrew Gerle and Eddie Sugarman plus Heidi Blickenstaff as they celebrate the release of the Studio Cast Album of Meet John Doe on Broadway Records! This is your chance to hear this award-winning, jazz-inspired score live for the first time in New York, and hear stories of the making of the show and the new album. Visit 54 Below's website for more information:
www.54below.com

---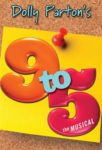 August 14 – October 13, 2013
This fall James can be seen as Franklin Hart, Jr. in the Marriott Theatre's production of 9 to 5 in Chicago. Directed by Jeff Award winner David H. Bell with choreography by Matt Raftery, the cast includes Kelli Cramer as Violet Newstead, Susan Moniz as Judy Bernly, Alexandra Palkovic as Doralee Rhodes, Marya Grandy as Roz Keith, Ben Jacoby as Joe and Roger Anderson as Tinsworthy.

---

July 12 – 14, 2013
James headed up to the New York Stage & Film Company to be a part of their 2013 Powerhouse Season in the Martel Musical Workshop of the new musical Bright Star. Renowned actor/playwright/composer Steve Martin returns to Powerhouse alongside iconoclastic musician Edie Brickell and the Tony Award-winning director of Chicago and Venus in Fur to bring to life a stirring story set in the Blue Ridge Mountains of North Carolina, as an editor of a southern journal discovers a powerful truth about her past through the eyes of a young writer. The show features a live score including songs from Brickell and Martin's new album "Love Has Come for You."
---
May 8 – July 7, 2013
James can currently be seen at Playwrights Horizons in the new musical Far From Heaven. Based on the film of the same title, the show is a powerful story of romance, betrayal, and intolerance, as a woman grapples with her identity in a society on the verge of upheaval. Visit the theatre's website for more information about the show.
---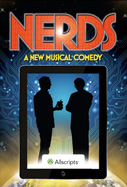 January 18 – February 3, 2013
James was seen at the North Carolina Theatre in NERDS, a cheeky original musical that celebrates the birth of computer technology and the two pop-culture icons that made it possible, Bill Gates and Steve Jobs. The show follows the lives of the founding fathers of modern computing as they rise from nerds to billionaires, making a mark on history, and defining the golden age of technology as we know it. Visit the theatre's website for more information about the show.

---

October 15, 2012
James sang the National Anthem at game 2 of the 2012 American League Championship Series between the Detroit Tigers and the New York Yankees.
---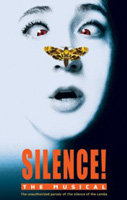 October 12 – January 6, 2013
James assumed the role of Dr. Hannibal Lecter's nemesis, Dr. Chilton, in Off-Broadway's Silence! The Musical, winner of the 2012 Off Broadway Alliance Award for Best Musical. Silence! features a book by Hunter Bell, music and lyrics by Jon and Al Kaplan and direction and choreography by Christopher Gattelli.
---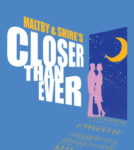 September 25 – October 7, 2012
James joined the cast of the acclaimed off-Broadway musical Closer Than Ever on September 25. Moye stepped in for current star George Dvorsky from September 25 through October 7. Closer Than Ever runs at St. Peter's Church through November 25.
---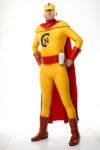 James starred as the masked Crunchy Nut superhero in Kellogg's commercials for their Crunchy Nut cereal. Visit the On Camera page to watch the commercials and learn more about Crunchy Nut himself.

---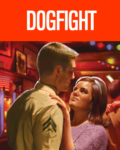 August 19, 2012
James was seen in Second Stage's newest production, Dogfight. The show was directed by Joe Mantello and based on the Warner Bros film and screenplay by Bob Comfort. Visit Second Stage's official website to learn more about the production.
"It's November 21, 1963. On the eve of their deployment to a small but growing conflict in Southeast Asia, three young Marines set out for one final boys' night of debauchery, partying, and maybe a little trouble. But when Corporal Eddie Birdlace meets Rose, an awkward and idealistic waitress he enlists to win a cruel bet with his fellow recruits, she rewrites the rules of the game and teaches him the power of compassion."
---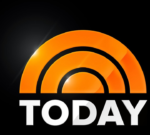 July 7, 2011
James appeared on "The Today Show" in Kathie Lee's segment entitled "Everyone Has A Story." He performed a song by Kathie Lee and David Friedman. Click below to watch the performance or click here.